Be inspired by Nature's beauty from floor to ceiling
In a technologically connected world, homeowners are looking to get back to basics with a healthy dose of organic design in every corner to further connect with nature. These looks also stand the test of time and embrace the beautiful views of the living world outdoors. Here are some ways to enhance your home's natural beauty using elements from nature.
Give designs a raw look To break down the disconnect from outdoors to indoors, look for opportunities to incorporate natural items in your home that appear unprocessed and pulled directly from the outdoors. Rough quartz, minerals and stone can be used as decorative details that contrast sleeker designs. Our Smokey Quartz Engineered Vinyl Plank flooring is the perfect option with its stone terrazzo look and feel. Its unique patterns provide a modern and minimalist edge, while the black and white contrast adds an immediate impact to any room.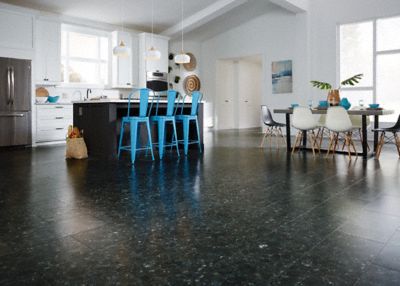 Embrace nature's imperfections Trees are like fingerprints, and every piece of wood tells a different story. That's why every knot and streak are important to enhance and embrace the organic, natural imperfections when it comes to your hardwood floors, tables, walls or even ceilings. At LL Flooring, we have a vast selection of hardwood flooring styles with a variety of textures and colors. For a natural look, try Blue Ridge Oak Engineered Hardwood flooring, which showcases wood in its natural state and uniquely combines the look of old-world craftsmanship with modern design.
Blending designs To give your home the organic and comforting experience, look for opportunities to bring raw materials and naturally imperfect pieces together, like untouched wood grains and rough stone slabs. Not only will the mix of these styles add a visual texture to your space, these designs also create a more warm, informal and minimalist feel that is reminiscent of Scandinavian-inspired retreats.
Incorporating natural elements will help to create mindfully crafted spaces and offer a fresh and organic break away from the glow of our screens. For more inspiration, follow us on our social media pages and share your LL Flooring styles with us.