BELLAWOOD


All Natural Floor Cleaner 1Gal
Available in select stores nationwide. Currently not available for online purchase. Check with your
local store.
Close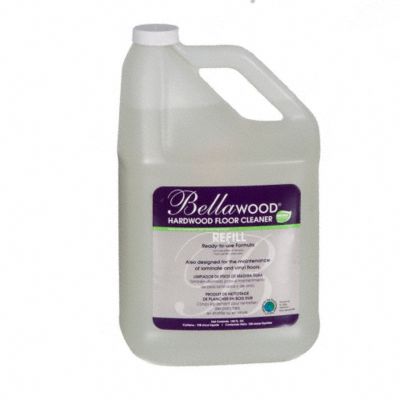 BELLAWOOD All Natural Floor Cleaner (1 Gallon)
Designed for the maintenance of hardwood flooring, laminate flooring, ceramic or vinyl floors.
No streaky or dulling residue

Bellawod Hardwood ALL NATURAL Floor Cleaner leaves your floors looking like new without a streaky residue and gives them that fresh "out of the box" glow. It's great for cleaning kitchen floors, family rooms, bathroom floors, dining rooms, and just about any other hard surface floor in your home.
Features:
- Contains natural plant based cleaning agent made from renewable sources like corn sugars and coconut oils.
- This plant-based cleaning agent is great at dissolving and removing dirt, oil and grease.


Specs:
- 1 gallon (128 fl. oz.)
- Plant derived raw materials are 100% sustainable
- VOC Free -No harsh fumes or odors
- 100% Biodegradable
- Contains no petroleum by-products, ethoxylates, alcohol, ethers, artificial color or perfumes
- Safe for families and pets
Ingredients:

Water CAS# 7732-18-5), Sodium Citrate Dihydrate (CAS# 68-04-2), D-Glucose, Decyl, Octyl Ethers, Oligomeric (CAS# 68515-73-1), Glucopyranoside, C-10-16, Alkyl, Oligomeric (CAS# 110615-47-9), Gluconic Acid (CAS# 526-95-4).
Order now through our web site, visit your local store, or Call 1-800-HARDWOOD