Builder's Pride - 3/4" x 4" Copper Ridge Hickory Solid Hardwood Flooring - 50 Year Warranty
Copper Ridge Hickory exudes earthy elegance and casual sophistication with the rugged spirit of a mountain ridge. The solid hardwood planks showcase on-trend rustic style with varying shades of copper brown that give way to lighter creamy tones. The unmistakable hickory grain adds to the character of the floor.
Length: 9" - 87"
Quick Highlights:
Solid hardwood.
Nail down installation.
Backed by a 50 year warranty.
About Builder's Pride:
Builder's Pride brings the beauty of a solid hardwood floor to your home. Beautiful flooring, easy to install and with a 50 Year warranty so these floors will amaze you for years.
What is "Natural Grade?"
Natural Grade has some color variation, mineral coloring and small knots. It can also be referred to as #1 or 2nd grade.
Installation Tips:
Nail-down or Glue-down* installation. (*Professional installation highly recommended for Glue-down applications, and only with approved glue.)
Acclimate your flooring before installing. Follow your sales associate's instructions for your flooring type.
Must be installed over a clean, stable, flat, smooth, and dry surface.
For a more natural look, mix planks well when installing.
Brand: Builder's Pride
FLOORING SKU: 10043605
SAMPLE SKU: 10043867
Limited Warranty: 50 years
Trade Name: Hickory
Marketing Name: Hickory
Janka Rating: 1820
AC Rating: N/A
Grade: Natural
Color Shade: Medium
Width: 4"
Thickness: 3/4"
Construction: Solid
Installation Type: Nail
Sq. Ft. Per Box: 18
Hardness Rating: 33% harder than Red Oak
Waste: 10%
Weight per box/unit: 54.39
Installation Details: Installation Guide



Please rotate your device to enjoy this feature!
Close
Builder's Pride 3/4" x 4" Copper Ridge Hickory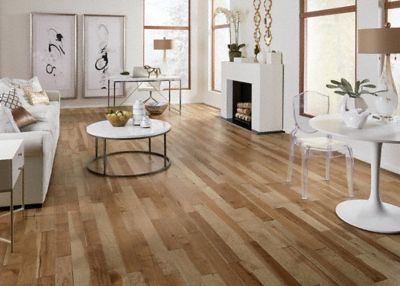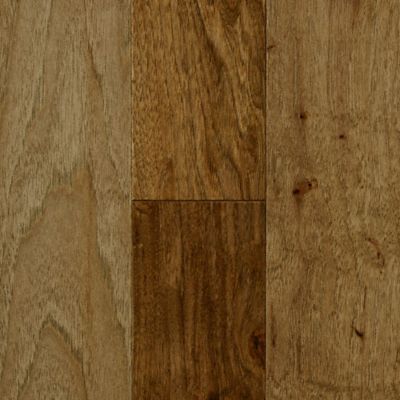 See more

Swipe